Anna Victoria's 30-Day Squat Challenge Will Change Your Butt and Your Life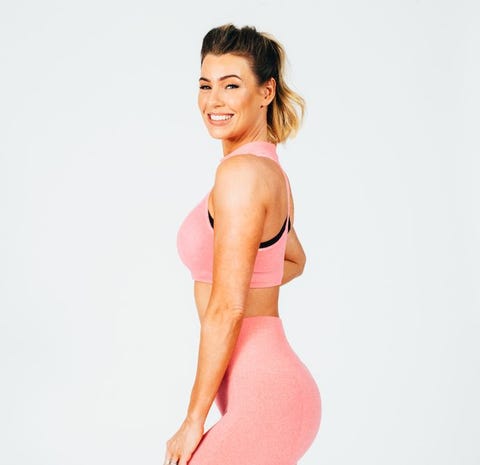 New Year's resolutions focused on working out are fine. But if you're not a huge fan of sweating, other sweaty people, or sweaty equipment, we've got a better fitness goal for you: a do-anywhere, prop-free 30-day squat challenge. The plan, created by certified trainer and Instagram star Anna Victoria, is about to make your booty bubblier than you ever thought possible.
THE MOVES YOU NEED TO KNOW
All you need to complete the challenge are the seven exercises below, your donk, and Anna's plan. Here, the moves you'll be crushing over the next 30 days, how to perform them, and how many sets and reps you'll do each week.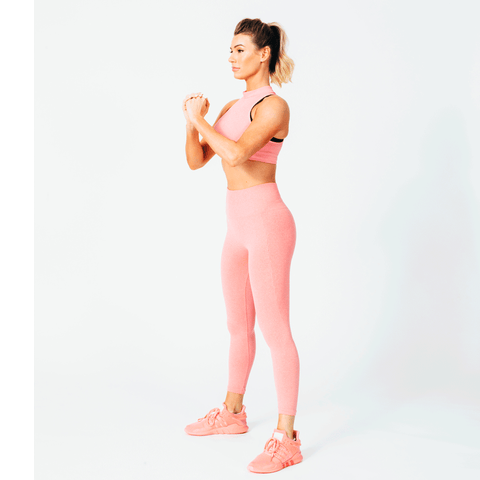 Stand with your feet slightly wider than shoulder-width apart, turning out your toes and knees slightly. Bend your knees to lower your body like you're sitting in a chair, keeping your chest up. When your thighs are parallel to the ground, push up through your heels and toes to raise yourself back up. When you reach the top of the move, squeeze your glutes. That's one rep.
2. THE SQUAT PULSE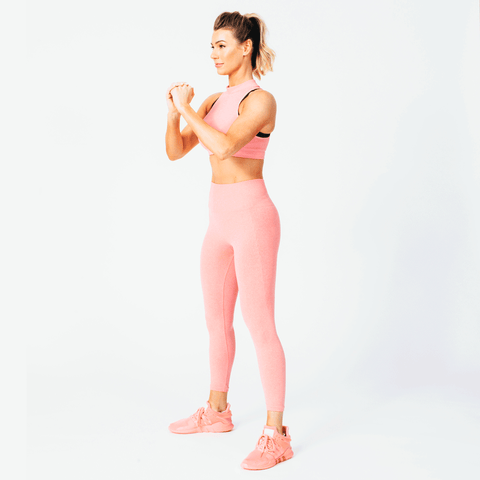 Stand with your feet slightly wider than shoulder-width apart, turning out your toes and knees slightly. Bend your knees to lower your body like you're sitting in a chair, keeping your chest up. When your thighs are parallel to the ground, slightly straighten your knees, then bend them again so your thighs are parallel. Push up through your heels and toes to raise yourself back to standing position. When you reach the top of the move, squeeze your glutes. That's one rep.'
3. THE SQUAT JUMP

Stand with your feet slightly wider than shoulder-width apart, turning out your toes and knees slightly. Bend your knees to lower your body like you're sitting in a chair, keeping your chest up. When your thighs are parallel to the ground, use your arms and push through your heels to jump straight up as high as possible. Squeeze your quads and glutes as you jump, and land softly back in the squat position. That's one rep.

4. THE SUMO SQUAT + TOE RAISE

Stand with your feet two to three feet apart, turning out your toes and knees slightly. Bend your knees to lower your body like you're sitting in a chair, keeping your chest up. When your thighs are parallel to the ground, push up through your heels and toes to stand, and raise yourself onto your tippy toes. Squeeze your glutes at the top of the move, then lower your heels. That's one rep.

5. STEP-OUT SQUAT HOLD

Stand with your feet slightly wider than shoulder-width apart, turning out your toes and knees slightly. Bend your knees to lower your body like you're sitting in a chair, keeping your chest up. When your thighs are parallel to the ground, shift your weight to your left leg, brace your core, and step out your right leg about six inches to the right. Bring your right leg back in. That's one rep. Complete the suggested number of reps on the right side before switching to the left.

6. SIDE SQUAT

Stand with your feet two to three feet apart, turning out your toes and knees slightly. Keeping your chest lifted, shift your weight to your right side, and bend your right knee until your right thigh is parallel to the ground. Your left leg remains straight. Push through your right heel to return to the standing position. That's one rep. Complete the suggested number of reps on the right side before switching to the left.

7. NARROW SQUAT

Stand with your feet slightly closer than shoulder-width apart, turning your toes and knees out slightly. Bend your knees to lower your body like you're sitting in a chair, keeping your chest up. When your thighs are parallel to the ground, push up through your heels and toes to raise yourself back up to stand. When you reach the top, squeeze your glutes. That's one rep.

THE PLAN

All these glorious exercises come together in this challenge to help you create a strong, literally well-rounded backside, says Victoria. "These moves target all of your glute muscles from a variety of angles, which is absolutely necessary for a toned booty," she says.

Each day, you'll tackle one—seriously, just one—squat variation for the recommended sets and reps. And although the types of squats stay the same throughout the entire challenge, the number of sets and reps steadily increase—as will your boo-tay.

ANNA'S ADVICE

Check out the plan above, and follow Victoria's pro tips below to make the most of your squat sessions each week.

"Keep in mind that squats are about quality, not quantity! Don't just power through each rep—really squeeze your glutes during each one for maximum booty-muscle engagement."

"When done properly, squats are just as much of a core exercise as they are a butt workout! To ensure that you engage your abs during each rep, focus on inhaling during the easy part of the movement, like lowering yourself into a squat, and exhaling on the hard part, aka pushing yourself back up to stand."

"At this point in the challenge, your gluteus muscles should feel stronger. You're building endurance! This week, we're adding more reps to keep pushing your limits. This is exactly what you need to see the results you're already feeling."

"Thirty squats per set might seem like a lot, but don't tap out early. Keep in mind that making it through the last, hardest reps will get you to your goal on schedule."

"This is your last week, which means your glutes are at their strongest! Polish off these final six workouts by focusing on the tension in your legs and butt through each and every rep. You got this."
by ASHLEY OERMAN